Activities 2016-17
VARIOUS COMPETITIONS FOR STUDENTS
a. Essay
b. Poster
c. Chart Making
d. Handwriting
e. Mehendi

f. Drawing
g. Elocution
h. Bait Bazi
i. Slogans Writing
j. Flower Decoration
k. Vegetable Painting
l. Quiz
m. Drama
n. Fancy Dress
o. Mono Acting
WORKSHOPS & SEMINARS FOR TEACHERS AND STUDENTS
a. Science – Day to day life
b. Personality Development
c. Preparation for albums, scrap books
d. Making of Teaching aids.
ACTIVITIES OF NATURE CLUB & SCIENCE CLUB
a. Excursions
b. Visit to Nature Park, Parle G, Mahananda Dairy, Marathi Vidnyan Parishad
c. Plantation
d. Lectures by eminent personalities on environment & science.
e. Ozone Day, Van Mahotsav, Eclipse Day
f. Attending shows and competitions at Nehru Science Centre.
g. Participating Afforestation Drive
h. Celebrating all important days eg., World Population, Wild Life Week, Malaria, AIDS, Hiroshima Day etc.
i. Showing slides on Cancer Prevention, Leprosy, Save the Tiger Project etc.
j. Painting the faces as animals
MARTIAL ARTS
We are proud to announce our school as the first school for such classes. These classes are compulsory for the students from Std. V to VII. We have got a batch of Black Belt also.
EXHIBITIONS
a. Science
b. Charts
c. Paintings
d. Books
e. Projects
f. Teaching Aids
g. Needle Work.
FELICITATION FUNCTION OF MERITORIUS STUDENTS
Meritorious students of all Girls' Schools are invited. They are interviewed and felicitated.
SPORTS DAY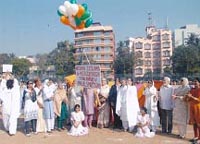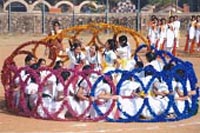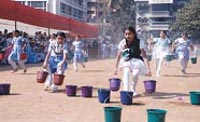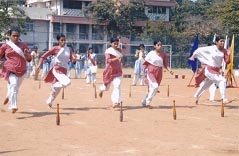 We celebrate Sports Day every year. Different races, games, gymnastics exercise, physical exercise are being organized.
COUNSELLING
a. Psychological problems
b. Vocational guidance
RALLY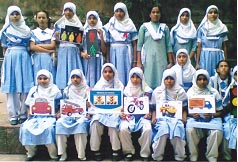 a. Cleanliness
b. Anti Tobacco
c. Prevention of AIDS
d. Conservation
e. R.S.P.
BAND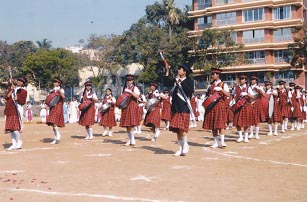 Our school has a best group of playing Band. It participates in all Inter School / State / District Competitions.