Student's Achievements
STUDENTS ACHIEVEMENT 2018-2019
1. Junior Red Cross Award function
STUDENTS ACHIEVEMENT AT THE S.S.C. & H.S.C. BOARD. EXAMINATION
1985 SHAIKH TASNEEM KASAM 1ST RANK IN URDU
1988 SYED SHEHNAZ PARVEEN BI AHMED 1ST RANK IN URDU
1988 SHAIKH RIZWANA SWALE AHMED 1ST RANK IN HINDI-MARATHI
1990 USMANI GAZALA IZHAR 18TH RANK IN BOARD
1990 PAREKAR IRFAN DAWOOD 1ST RANK IN HINDI-MARATHI
1991 SHABANA JABEEN AHMED 1ST RANK IN HINDI-MARATHI
2004 FATIMA BANO SHAH ALAM 1ST RANK IN GEOGRAPHY
(H.S.C. BOARD EXAMS)
STUDENTS ACTIVITIES & ACHIEVEMENTS ( 2010 - 2011):-
(a) "Horlicks Wiz Kids" (Krayon Company) organized Mehndi & Painting Competition on 22nd & 23rd July'10 at Bhaidas Hall, Vile Parle. 21 students from Std. V to VII participated in Mehndi Competition. Following students won the prizes :-
1. Khan Shifa VII-D 2nd prize
2. Aliya Irfan Qureshi VII-F 3rd Prize
3. Khan Sadiya VIII-A 3rd Prize.
(b) Red Cross Greeting Competition conducted by School & Jr.College. 26 students from school & 6 students from Jr. College participated
(c) About 18 students from Std. V to VII participated in the Craft Competition organized by Camlin. Khan Huma Madul (VI-B) & Tehseen Fatima Anees (VII-B) awarded with participation certificate.
(d) Inter College Biat Bazi Competition was organized on 9th October'10 by the Head Office in our Yusuf Khan Hall. Mrs. Tabassumji, the Film Actress was the Special Guest. The team of our college bagged 1st prize.
(e) Saha Shaleya Upakram Ward Level Competition 2010 – 2011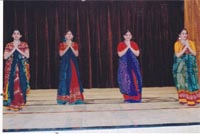 (1) Drawing Competition was held at Rameshwar Vidya Mandir, Vakola on 12th October'2010. Nazneen Syed (X-A) – Sr. Group & Musfira Mahimi(VII-F) – Jr. Group awarded with certificates.
(2) Ward Level Dance Competition held on 13th October'10. 10 schools in Sr. Group & 4 schools in Jr. Group were the participant. Team of our students bagged 1st prize.
(3) H-Ward Science Quiz Competition was held on 26th November'2010. 6 schools were participated. The Chief Guest of the programme was Mr. Latafat Kazi, Cultural Director of Nehru Science Centre. The team of our school bagged 1st prize.
(4) Our Drama "RAKSHASH" was selected for H-Ward Level Drama Competition held at Pattuck Technical Vakola & bagged 1st Prize.
(f) Poetry Recitation Competition was held on 24th September'10 for students of std. VIII to X . Urdu teachers prepared the students for the participation. The aim to increase the interest as well as language knowledge towards the mother tongue. The event incharge was Mrs. Naseem Semna. The following students bagged the prizes:
Farzana Lal Mohd. Shaikh (VII/G) : 1st
Farzana Gulam Hussain Shaikh (VIII/B) : 2nd
Rahat Mohd. Saeed (VIII/F) : 2nd
Sufiya Aminuddin Shaikh (IX/C) : 1st
Aaisha Rafiq Ahmed Khan (IX/G) : 2nd
Kashaf Israr Khan (X/E) : 1st
Shiba Fatima Md. Aslam Farooqui (X/F) : 2nd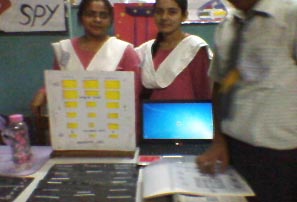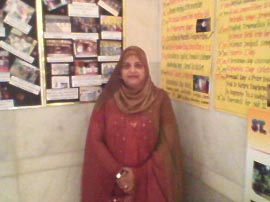 (g) Ward Level Science Exhibition along with Quiz & Essay Competitions were organsied by the Department of Education held from 1st to 3rd December'10 at Malti Jayanti Dalal High School, Santacruz. Our School participated in all the programmes.
The Science Exhibits were presented by Jr. Group, Sr Group, Jr.College Lab.Asstt. & Teaching Aid.
The results are as follows:-
Science Quiz Competition:-
A. Team of Jr. Group :-
(i). Shaikh Almas Qamrulislam 1st Prize
(ii). Shaikh Aqsa Fareed Ahmed
B. Team of Sr. Group :-
(i) Misbah Ilyas Ansari 1st Prize
(ii) Tamseel Khan
Essay Writing Competition :-
1. Jr. Group :-
(i) Huma Khan 2nd Prize
Incharge Teacher :- Mrs. Zeenat Mistry
2. Sr. Group :-
(i) Momin Iram 2nd Prize
Incharge Teacher :- Mrs. Saeeda Shaikh
Mrs. Rehana Shaikh
Elocution Competition :-
3. Jr. Group :-
(i) Shaikh Afsha Abdullah
Incharge Teacher :- Mrs. Zeenatunnisa Mistry
4.Sr. Group :-
(i) Qureshi Hamna Tayeb 2nd prize
Incharge Teacher :- Mrs. Tanzeema Khan & Mrs. Rizwana Rasool
Science Project :-
1.Sr. Group :- (i)Amina Azmi Parvez 2nd prize
(ii) Humera Abdul Rashid
Incharge Jr. CollegeTeachers :- (i) Mrs Anjali Pendse
(ii) Mrs. Madhura Samanth
(iii)Mrs. Afreen Ansari
5. Science Teaching Aid :-
1. Ms. Saba Naaz Abdul Wahab 3rd Prize
6. Continuing Education Project :-
Incharge Teachers :-
1. Ms. Shabana Coatwala 3rd Prize
2. Mrs. Rameeza Syed
3. Mrs. Zahida Majeed
7. Lab. Assistant Project :-
Incharge Lab. Asstt.:- (i) Mrs. Nasreen Shaikh 3rd Prize
(ii) Ms. Lubna Lakdawala
8. H-Ward Gallery :-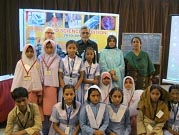 Incharge Teachers Mrs. Yasmeen Survey (Participation Certificate)
(h) Quiz Time Mumbai has conducted 13th General Knowledge Quiz Competition on 4th December'10 at our school. Urdu medium school from all over Mumbai participated. Team of our students bagged 3rd prize.
The following students participated in the competition :-
1. Ansari Misbah Ilyas
2. Ansari Shifa Md. Naeem
3. Shaikh Zeba
The Incharge teacher :- Mrs. Zaheda Siddiqui
The seminar was conducted by Anjuman-I-Islam Urdu Research Institute on the topic "Urdu Gazal Kal Aur Aaj" in the loving memory of well known poet Mr. Meer Taki Meer.
Inter School Elocution Competition (Sir Syed Trophy) was conducted by Armagan-e-Anjuman on 7th December'10 at Yusuf Khan Hall. Students participated in it. Judges were invited for the competition viz. Mr. Shafiq Ahmed, Mr. Rafiq Jafer & Mr. Rehman. The Guest of Honor was Mr. Yaqub Rahi.
Sr. Group students bagged a Special Prize.
Students Islamic Organisation (SIO) organised Drama Competition on 12th December'10 at our school hall. 13 school participated. Our School bagged 1st prize. Mrs. Reshman Naik, Asstt. Teacher got the "Best Director Award".
(k) Principals from Anjuman Group of Schools visited to see all the records & activities of our school on 14th December'10. This visit was conducted by "Urdu Head Master's Association & Anjuman Group of School". Dr. Zahir Kazi, President of Anjuman-I-Islam, also attended in this visit. He highly appreciated all the work & activities conducted by teachers & good remark to our school such as "it was the best day of my month, Good product needs good market". All Principals were impressed our school and they gave good remarks.
(l) General Knowledge Quiz Competition was held on 21st December'10 in our school. Team of our students secured 3rd prize. Incharge teacher was Mrs. Zaheda Siddiqui.
(m) Seertat-un-Nabi Elocution Competition was held on 22nd December'10 at our school hall. Our student Ms. Asifa Chilwan of std. VI-A got 2nd prize.
Incharge Teacher was Mrs. Zeenat Mistry.
(o) Drama Competition was arranged by Ideal Organisation at N.G.M.A. Hall Churchgate on 29th December'10. 11students participated in this drama. Drama title was "Aurat Na Buch Payi Atankwad Se".
Our school won 1st prize for the drama. Children were awarded Best Actress Award-Nutan Trophy, Best Script award & Merit Certificates were granted.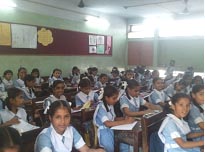 (p) Every year we prepare our students who are good at drawing figures & sketches for Government's Elementary & Intermediate Drawing Exams which keep utmost importance in the different fields like Technical, Engineering, and Medical etc.The Government Drawing Exams contribute great deals towards the betterment of academic standards . It helps to improve handwriting, develops aesthetic as well as colour sense. From vocational point of view Drawing exams have their own importance. The students who are good at drawing can do better in drawing figures, sketches etc. in Technical, Engineering, Medical, Screen Painting courses etc.